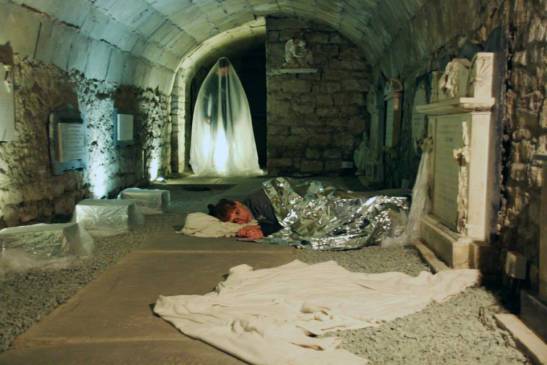 What started in 1981 as an alternative fringe event to the more formal Music Festival has evolved over the years into a 17-day extravaganza that virtually takes over the City in early June, following directly after the end of the main festival.
The Old Theatre Royal became a venue for the Fringe in 2013, and will be staging a full programme again in 2017, details of which can be found here.  The events staged cover a wide spectrum from solo music gigs to full theatrical productions in the Main Hall, to intimate one-man shows and stand-up comedy in the Garret Library.
One of the theatrical successes in 2014 was an event called 20:20 Vision, which took over the entire building for two days staging 13 short playlets in different rooms, from outside in the street to the Main Hall; they even staged one in the gents' loo!  The audience was escorted around in groups to witness each performance in sequence.
The most popular musical performance of 2014 was the Hot Potato Syncopators who staged a Ukelele Ding-Dong.  Having invited their audience to bring their own 'ukes' along, they proceded to hold a jam session in the bar after the main event.
We often have shows written and produced purely for performance at the OTR, as happened in 2015 when local singer-songwriter Sam Eason wrote eight songs for a special album entitled Bath Songs, all about historical events in the City over the previous 300 years.  In 2016, the well-known Beatles tribute band, Sgt Pepper's Only Dart Board Band, morphed into The Unravelling Wilburys, and held their world-premier here in front of a sell-out audience.
fringe@theOTR 2017, sponsored by Sitec Group, will run from 28th May to 11th June, click the poster below for more details.