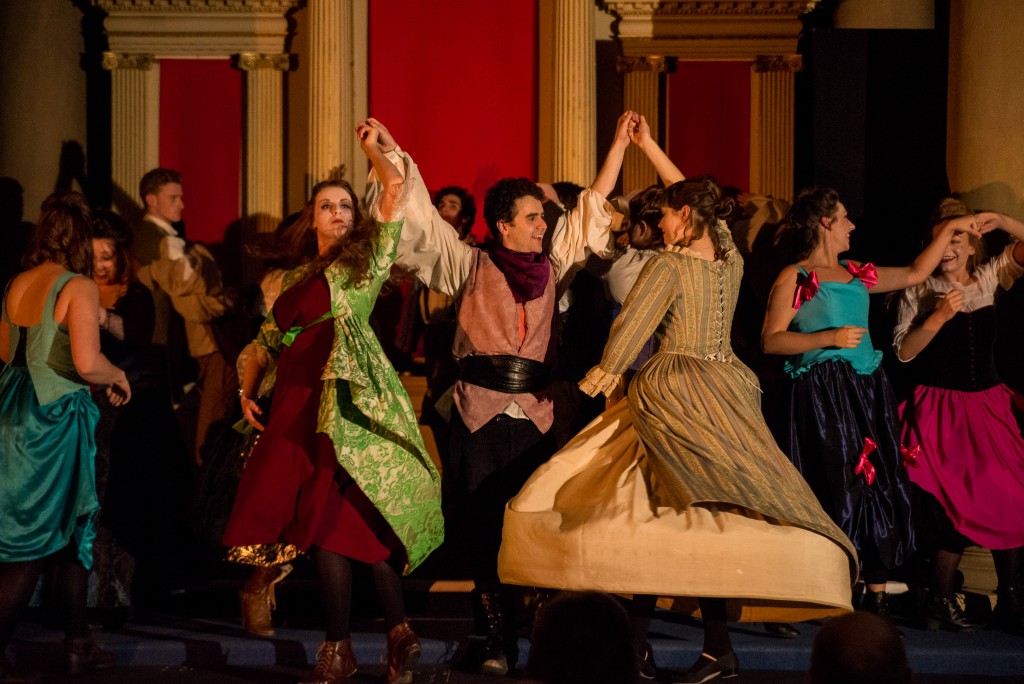 In 2014, performances of The Beggar's Opera were staged at The Old Theatre Royal.  Written by John Gay in 1727 it became one of the best loved and most popular pieces of 18th Century theatre, combining a story of love, deception and corruption with popular traditional ballads, hymns and folk tunes of the period.
This was also one of the favourites of the audience at the Theatre Royal during the 18th Century, and was normally a sell-out.  Because of that, it was often chosen by individual actors for their benefit performances.  It was first performed here on 5th November 1753, then in virtually every season following, often several times each year.  The final Georgian performance at Orchard Street took place on 2nd March 1805 and starred Benjamin Incledon, one of the foremost tenors of his time, who had started his career at Orchard Street in 1784.  He moved to Covent Garden in 1790, but often returned to Bath for short seasons.
The revival, nearly 210 years later, was performed by the ladies & gentlemen of The Music and Acting Company of Bath Spa University, and was co-produced by Bath Spa Live and Bath Recital Artists Trust.  The bawdy atmosphere was also recreated by the performers passing among the theatregoers before the curtain rose, and during the interval.  A Public Breakfast was served by our caterers before the Sunday Matinee performance, recreating the popular 18th Century meal depicted by Rowlandson in his 'Comforts of Bath'.
Set amongst the lowlife of 18th Century London and the equally corrupt enforcers of the law, the Beggar's Opera is as relevant today as it was when it was written.  With music by Johann Pepusch and words by John Gay, it has often been performed as a reflection of more recent times.  The years have not diminished its popularity, with all five performances delighting the packed houses, and it is hoped that further period productions can be revived on our stage in future years.
If you have a production, ancient or modern, that you would like to stage at The Old Theatre Royal, please contact us for more details.