By 1782, Sarah Siddons had been persuaded to leave Bath for a triumphant return to Drury Lane, where Richard Sheridan had taken over after David Garrick retired.  Her final performance at Orchard Street, rather aptly in 'The Distrest Mother', was an emotional affair, after which she delivered the following address from the Stage, entitled 'The Three Reasons':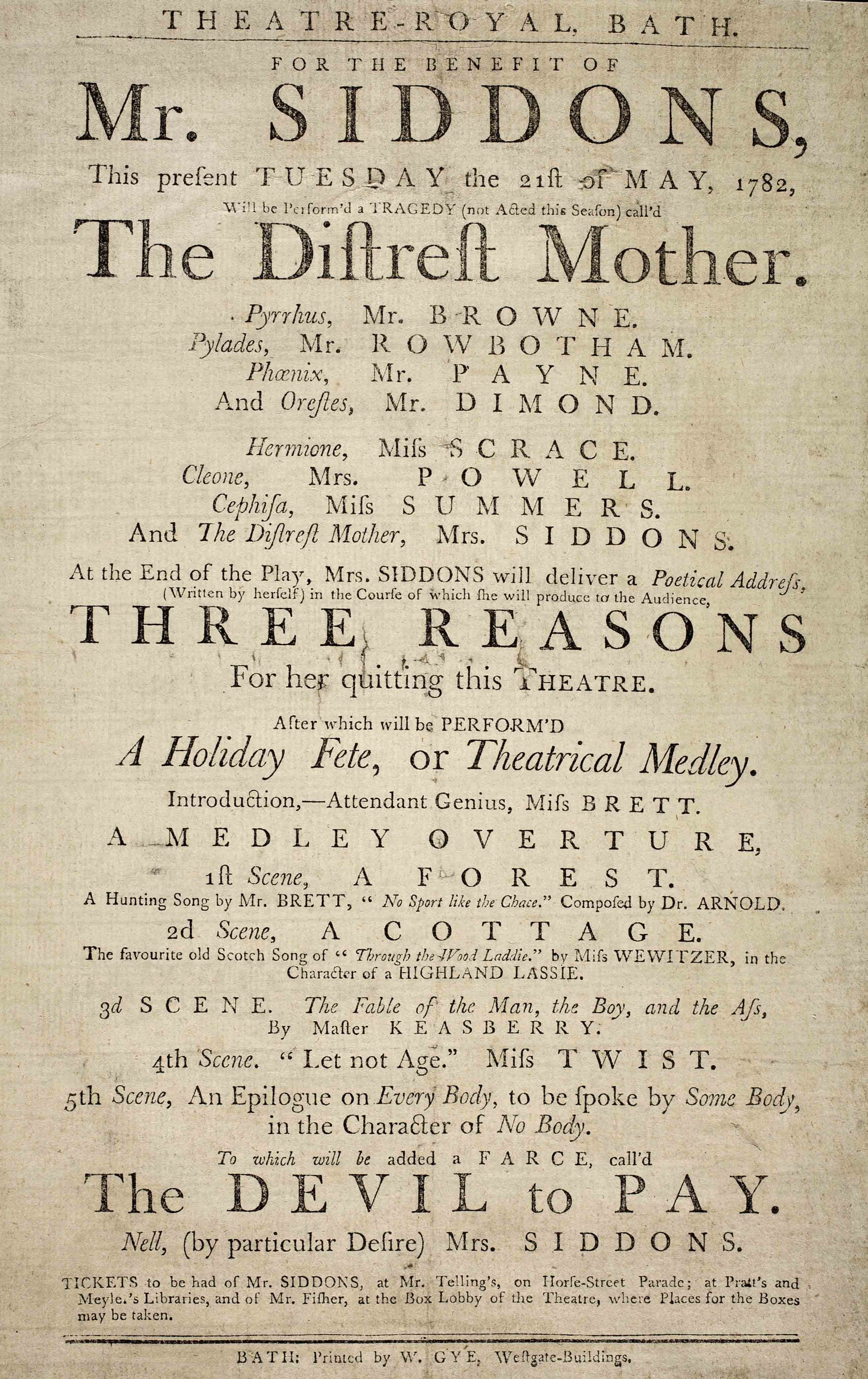 Have I not raised some expectation here?
Wrote by herself? What! authoress and player?
True, we have heard her, thus I guess'd you'd say,
With decency recite another's lay;
But never heard, nor ever could we dream
Herself had sipp'd the Heliconian stream.
Perhaps you farther said Excuse me pray,
For thus supposing all that you might say
What will she treat of in this same address,
Is it to shew her learning? – Can you guess?
Here let me answer No; far different views
Possess'd my soul, and fir'd my virgin Muse;
'Twas honest gratitude, at whose request
Shamed be the heart that will not do its best.
The time draws nigh when I must bid adieu
To this delightful spot nay ev'n to you
To you, whose fost'ring kindness rear'd my name,
O'erlooked my faults, but magnified my fame.
How shall I bear the parting?
Well I know Anticipation here is daily woe.
Oh! could kind Fortune, where I next am thrown,
Bestow but half the candour you have shewn.
Envy o'ercome, will hurl her pointless dart,
And critic gall be shed without its smart,
The numerous doubts and fears I entertain,
Be idle all as all possess'd in vain.
But to my promise. If I thus am blessed,
In friendship link'd, beyond my worth caress'd,
Why don't I here, you'll say, content remain,
Nor seek uncertainties for certain gain?
What can compensate for the risks you run;
And what your reasons? Surely you have none.
To argue here would but your time abuse:
I keep my word my reason I produce"
At this cue her three children, Henry, Sally and Maria, were brought onto the stage.  She had hidden them in her dressing room up to that point.  She continued:
These are the moles that bear me from your side;
Where I was rooted where I could have died.
Stand forth, ye elves, and plead your mother's cause;
Ye little magnets, whose soft influence draws
Me from a point where every gentle breeze,
Wafted my bark to happiness and ease
Sends me adventurous on a larger main,
In hopes that you may profit by my gain.
Have I been hasty? am I then to blame;
Answer, all ye who own a parent's name?
Thus have I tried you with an untaught Muse,
Who for your favour still most humbly sues,
That you, for classic learning, will receive
My soul's best wishes, which I freely give
For polished periods round, and touched with art,
The fervent offering of my grateful heart.
Sarah Siddons went on to international fame and retired in 1812.  She is still considered today to be the finest tragic actress ever to grace the stage.