fringe@theOTR is part of the Bath Fringe Festival and will run from May 30th to June 11th 2016
The festival at this venue is again sponsored this year by the Bath-based Sitec Group, and we thank them for their support which has enabled us to attract a very strong line-up ranging from well-known local musical artists to a touring production from South Africa:
Song-writing: is it witchcraft?
Monday May 30th 7.30pm
Singer-songwriter Phil Cooper presents an evening of live music and spoken word, investigating the art of song-writing. Through stories and examples he will explain how a song can go from non-existing to real and memorable within a matter of minutes, and show how songs change over time. In a final brave/stupid move he will try to write a brand new song on the night, which will then be recorded and sent to all in attendance.
Screamin' Miss Jackson
and the Slap Ya' Mama Big Band
Tuesday May 31st 8pm
Bristolian 7 piece Screamin' Miss Jackson and the Slap Ya' Mama Big Band draw influence from such diverse players as early bluesman Casey Bill Weldon, Tampa Red and the wonderful Memphis Minnie, 20's and 30's Jazz singers like Georgia White, Anita Carter or Lil Hadin, the western swing feel of The Texas Playboys and finally mixing all that up with the country folk of Doc Watson.
Whether it's their own original tunes or their own unique take on an early classic the energy and passion all seven have for the music is more than apparent.
Ali George (with special guest Ruby Brown)
Plus support from Tim Graham
Thursday June 2nd 7.30pm
Ali George is one of Bath's most treasured singer/songwriters. Ali's beautifully controlled voice reminds many of Cat Stevens and Nick Drake. He will be joined by special guest Ruby Brown; a singer whose stunningly beautiful voice always compliments Ali's in harmony and timbre. "Ali is one of Bath's finest troubadours. Whether solo, as a duo, or surrounded by musicians, Ali's music and songs cut through and grab your attention."
Tim Graham is an inspirational guitarist and vocalist. He is a member of the innovative and highly regarded band Pedal Folk, and a solo performer of the highest calibre. "Graham is an excellent interpreter and re-appropriator of songs, with a hearty voice and an uncluttered Bert Jansch-esque guitar style."
Angie Belcher: Mythical Creature
Friday June 3rd 7.30pm
"Equally at home on the stand-up circuit as in a posh tent at a literature festival, Angie (finalist Best female comedian 2015, What The Frock and best spoken word show 2015, North East Theatre Review) presents naughty stanzas and awkward stories. An accomplished comedy performer this is her second Edinburgh show.
"Highly Recommended, go see her" Phil Jupitus.
Angie is supported by Odious Vex her 17 yr-old male alter-ego and by Robert Garnham (Multiple slam champion, Professor of Whimsy and consumer of biscuits), Robert Garnham mixes elements of comedy with occasional rhyming, and a kind of muted disdain about the quirkiness of everyday life.
The Saskia Griffiths-Moore Trio
with support from Johns & Nowak
Friday June 3rd 8pm
The Saskia Griffiths-Moore trio perform heartfelt atmospheric folk/pop, passionately sung over classical and acoustic instruments. Frequently compared to Joan Baez and Eva Cassidy for her enchanting tones, creative melodies and her perfect, natural sound, Saskia's original songs draw on the genre's of Americana, roots & darker folk music. They are at once thoughtful, mesmerizing and stunningly beautiful, delivered with humour and style.  Expect a night of engaging songs, captivating instrumentation and crystal clear vocals.
"…a fine singer-songwriter…wonderful voice and great guitar playing" Johnny Coppin, BBC Radio Gloucestershire.
The all female Bristol based trio are being supported by a local Americana duo, Johns & Nowak.
The Unravelling Wilburys
(plus 'Stars in Demise')
Saturday June 4th 8pm
As Sgt Pepper's Only Dart Board Band they took their hilarious and brilliant Beatles show around the globe for more than twenty years, and were particular favourites in Bath. Now, having finally grown up, they return in this FIRST EVER LIVE PERFORMANCE as The Unravelling Wilburys, a tribute to the greatest ever super-group, featuring not only the best Traveling Wilbury songs, but many of the finest hits of Roy Orbison, George Harrison, Bob Dylan, Tom Petty and Jeff Lynne.
Opening the evening, Martin Dimery presents extracts from his previously-unperformed comedy music-revue "Stars in Demise", which allegedly exposes the songs Elvis, The Beatles, George Formby, The Stones and others, may have preferred to have kept hidden.

The Brilliant Buskers of Bath
Sunday June 5th 8pm
Jerri Hart presents a night featuring some of the best music normally heard on the streets of Bath, with artists including 'Loopy Tom' McNair plus others.
The Story of the Blues
An evening with Eddie Martin
Thursday June 9th 8pm
Eddie Martin's performances with Big Band or one-man-band have been acclaimed from Festival stages round Europe to Jook Joints in Clarksdale, Mississippi. This solo show brings the history of his beloved blues music alive with anecdotes, guitar and harmonica wizardry, and songs from the Delta to the British Blues Boom and back to Chicago.
"Absolutely Superb" BBC Radio 2 Paul Jones
"A Blues Master" New Jersey Times.
Eddie will run a harmonica workshop before the performance, commencing at 6.30pm. For workshop details and prices contact Eddie direct through his website.
Davis Lindley Mullan
with Special Guests
Leon Hunt and Jason Titley
Friday June 10th 7.45pm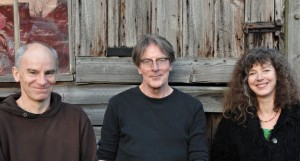 Davis Lindley Mullan are a 3 piece acoustic trio.  DLM are a vehicle for Andrew Cresswell Davis who, having honed his superb songwriting skills over many years, is now producing some of the finest songs he has ever written. He is accompanied by Clare Lindley (who played with him in Stackridge) and Brian Mullan. Between them they play a variety of instruments – guitars, violin, cello, ukuleles and more.  With the addition of three fine voices singing beautiful harmonies ,they create rich textures and intimate moods which breathe life into songs about love, loss, life ……and squirrels.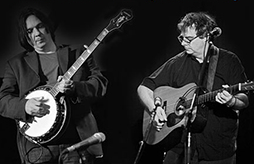 After spending more than two decades working together in various band settings, of all shapes and sizes, Leon Hunt and Jason Titley have amazingly only just discovered the delights of playing as a duo. This latest chapter in their long-running musical story came about after being invited to present a Masterclass at the prestigious London Acoustic Show at Olympia. This performance went so well that the duo found themselves onstage once again, little more than a month later at The Fusion Filabres Festival in Spain. Flushed with a second resounding success they've decided to do it some more……
Come and Dance to:
Lose The Shoes (ft: James Warren)

Saturday June 11th 8pm
The vibrant Bath music scene has given rise to a succession of critically-acclaimed bands throughout the years, including Stackridge, Graduate, The Korgis, and Tears for Fears. Many of the musicians associated with those groups have led a double life as LOSE THE SHOES, a sideline act dedicated to celebrating classic Pop, Rock, Motown and Disco, in addition to their own musical legacies.
Delivering fresh, exceptionally danceable interpretations of classic tracks by their favourite artists including: the Beach Boys, Doobie Brothers, Kool & The Gang, The Beatles, Fleetwood Mac, Steely Dan and the Four Seasons. Their arrangement of "Everybody's Got to Learn Sometime," the Top 10 international smash written and sung by James Warren from The Korgis, is especially notable.
Please note this is a standing event with limited seating.