fringe@theOTR 2018 is part of the Bath Fringe Festival and will run from May 29th to June 10th 2018.  The festival at this venue is again sponsored by the Bath-based Sitec Group, and we thank them for their support which has enabled us to attract a very strong line-up including a new band featured on BBC Introducing and two nights celebrating the tenth anniversary of local record label Jelli Records:
Tuesday May 29th 8pm
Comedienne-ess

Sally-Anne Hayward is a familiar face in Bath as she is one of the regular hosts of Krater Comedy at Komedia. Taking time off from supporting Sarah Millican on tour she brings her own show to the Old Theatre Royal.  59 minutes of jokes from a female/woman unafraid of embracing her bitchier side. Watch out fussy eaters, over-sharers and people who think she is interested in their ailments.
"Exceptionally Funny" The Independent
"Warm and very funny" Sarah Millican.
---
Wednesday May 30th 7.30pm
Celtic & Spanish Guitar Music from the Heart

Geoff Robb is a guitarist and composer whose music blends his classical training with his love of Spanish and Celtic music. His well crafted and deeply moving compositions will transport you away on a journey from Spain and Latin America to Ireland and Scotland.
He performs on both steel string and nylon string guitars including a beautiful Maple guitar he built himself with the expert help of luthiers Richard Osborne and Cameron Mobbs. He has performed at festivals and concerts all over the UK and Europe including Glastonbury and has been chosen as support act for many top guitarists from across the world.
"Very talented – makes the guitar sound like 2 guitars and a piano" BBC Southern Counties
"An outstanding guitarist. Every piece he played was impeccable and his innovative technique was of the highest standard." The Argus
---
Thursday May 31st 8pm
Jelli Records presents
The Phoenix River Band
plus support from Higgs Bison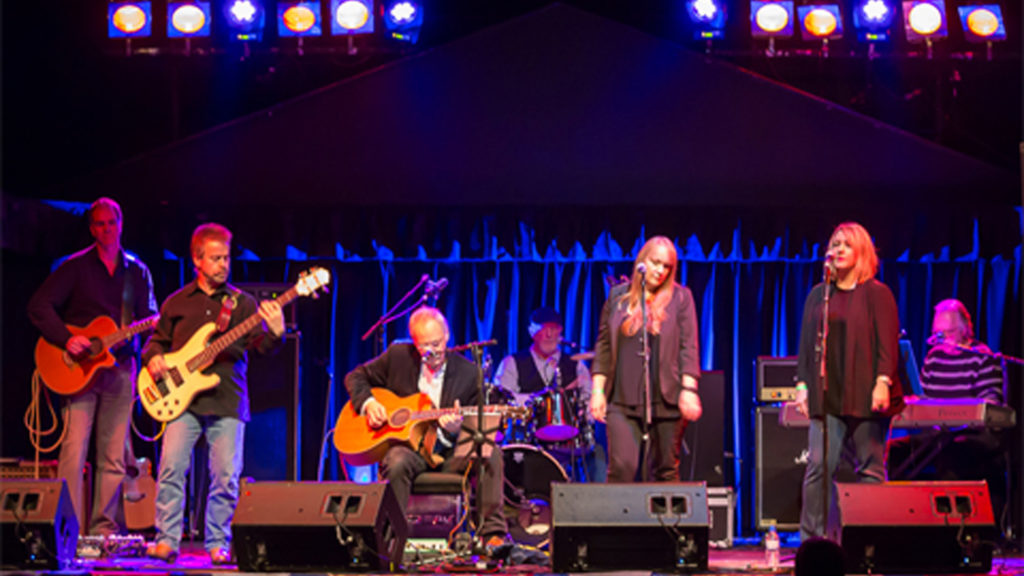 As part of Bristol's Jelli Records' tenth anniversary celebrations, they bring two bands to the OTR:
Phoenix River Band's music is original, not heavy or pop, but a potent mix of original songs with driving beats and soulful melodies . There is an undoubted salute to country influences with hints of R&B and Blues, think Allman Brothers meets Chris Rea meets Jackson Browne with a touch of Pink Floyd and Fleetwood Mac and you have a potent mix of original songs with driving beats and soulful melodies.
Bath-based Higgs Bison have a sound which is Instantly atmospheric drawing you in with an array of beautiful songs reflecting human spirit and predicament –  love, loss, money and menace. The three piece line-up, guitar bass and drums is augmented with the careful use of sampled sound and haunting plummy whistling.
---
Friday June 1st 8pm
Jelli Records presents
Funkinsteins
with special guest Bashema

As part of Bristol's Jelli Records' tenth anniversary celebrations, they bring two bands to the OTR:
Bristol-based Funkinsteins are a neo funk/rock band. They are not your average musicians, their craft goes much deeper than that turning the genre of funk rock upside down and in doing so gives them their own unique sound. This trio has crafted a truly original master sound, with amazing vocals and breathtaking guitar from Sal Wyatt and phat slap bass from Alex Gabb, the drums come courtesy of the mighty Jon Carter, all together they give a truly dynamic performance .
Bashema is a niece of Jamaican Reggae Legend Keith Hudson and cousin of Acclaimed New York Hip Hop artist Keith "Tryfle" Hudson Jr. She has had a passion for music since she was very young and has gone from strength to strength as a perfomer. She has realeased a number of singles and EP's, appeared on various radio stations and festivals including Glastonbury and even performed for the Jamaican High Commissioner.
---
Saturday June 2nd 8pm
Wasuremono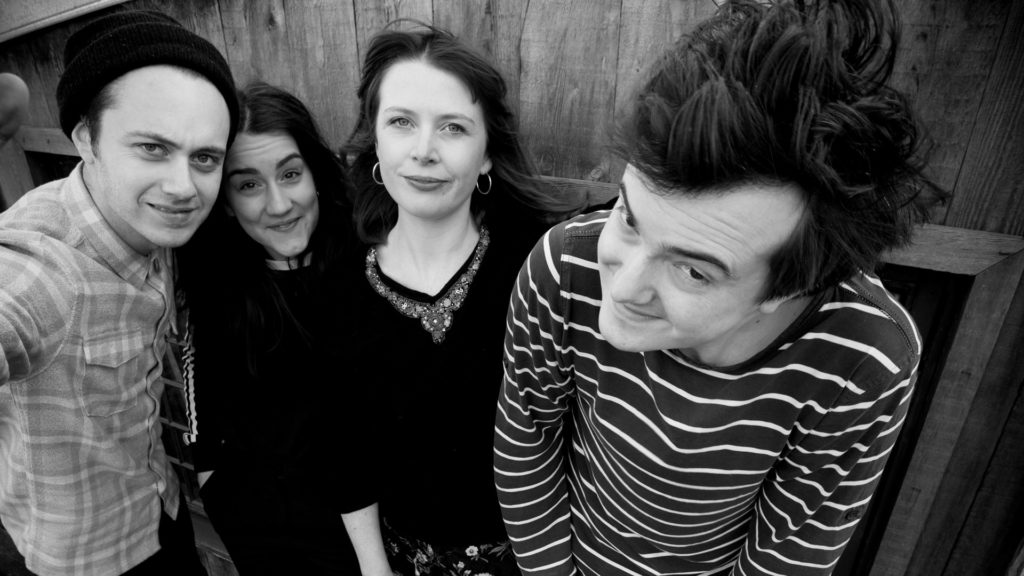 Featuring currently on BBC Introducing, Wasuremono are a four piece indie/dream-pop outfit from Bradford-on-Avon. Their ever developing show incorporates intricate guitar styles and soundscapes, four part harmonies, rythmic drums and synths, and their debut album 'Something Left Behind' and last EP 'Kaboom', have been championed by BBC 6 Music's Lauren Laverne, with songs featured heavily on 6 Music playlists and 'best of 2017'. In February this year, the band alsodid a live session at Maida Vale for the Steve Lamacq show on BBC 6 Music.
"A marvellous little curio of a record" – Steve Lamacq
"Wasuremono … means anything forgotten or left behind in Japanese. No chance with this brilliant band." – Lauren Laverne
---
Sunday June 3rd 7.30pm
Cecilia Le Poer Power
with Amadou Diagne

Internationally-acclaimed singer Cecilia Le Poer Power, who has been touring the UK recently with Russell Watson, will be joined by the evocative Senegalese singer /multi-instrumentalist Amadou Diagne for an evening of intimate and atmospheric music. A spellbinding collaboration, which promises a sumptuous melting pot of two continents'.
'Elegant new music star' – The Guardian
'A beautiful voice' – Jools Holland
---
Monday June 4th 8pm
Ali George
with Tom Allen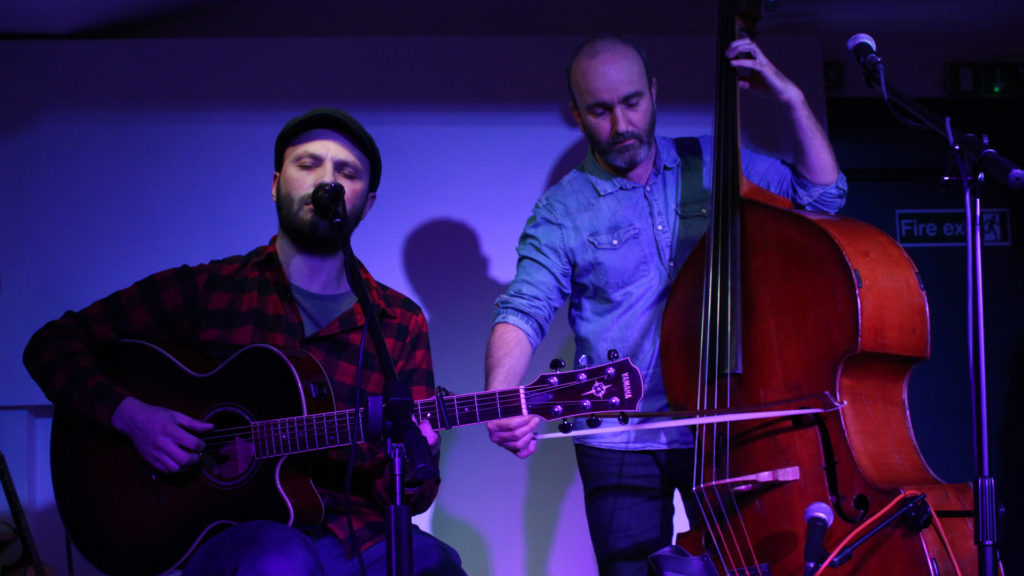 Ali George is one of Bath's most treasured singer/songwriters. Ali's beautifully controlled voice reminds many of Cat Stevens and Nick Drake. His intricate fingerstyle guitar style recalls the days of John Martyn and Bert Jansch.His self-penned songs (which range in genre from Folk to Americana/ Blues) are as exciting and entertaining as they are honest and original.  Ali will be joined by double-bassist Tom Allen (Bartoune, The Zen Hussies) whose engaging and mesmerising playing style complements Ali's songs beautifully.
---
Wednesday June 6th 8pm
Brian Madigan
Think of a Sequel

Building on the success of last year's ground-breaking 'Think of a Song', Brian Madigan now teams up with Tony Orrell, Paul Bradley and James Watts to bring you 'Think of a Sequel'
In the first show, the audience was presented with the stories behind the songs, and asked to imagine them. This time, three of the region's finest musical improvisers will create unique interpretations of songs they themselves have never heard. Not even the players themselves know quite what will ensue but engrossing story-telling, dazzling musicianship and a show-stopping finale are assured.
---
Thursday 7th June 7.30pm
Richard Riley's
'I Can't Tell You'
with Audrey Riley and Special Guests
UPDATE 23rd April 2018
The artist has cancelled this event.  
We apologise for any inconvenience caused,
but this is totally beyond our control.
---
Friday June 8th 1pm
Jane Austen and the Piano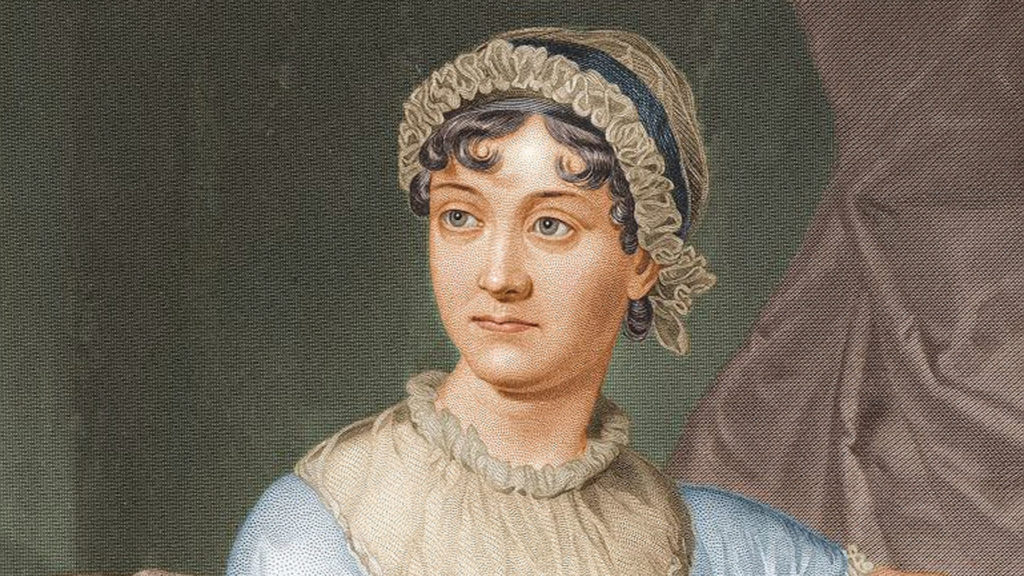 Judith Gore performs a lunchtime piano recital featuring music associated with the era of Jane Austen. It will include the Overture from Piccinni's La Buona Figliuola (The Dutiful Daughter), Haydn's Sonata in C Major and Sterkel's Sonata in C Major. Judith was born in Southport and is a member of the Royal Philharmonic Society.  She was awarded a Piano Recital Diploma from Trinity College London, followed by further piano studies at the Guildhall School of Music.  She has performed for BBC Radio 3 at the Bridgewater Hall Manchester and the BBC Television Centre London.
Note: the above video features music to be played at the event, but is not by the artist who will be playing it.
---
Friday June 8th 7.30pm
Dimension 50

Were you a clubber in Bath between 1968 and 1983?  Then you will remember when Geno was 'down the Pav', hair was big and flares were larger, and names like Dimension, Apollo, Speakeasy, Carousel, Tiffanys and Nero's where the music was a mix of Stax Soul, Motown and Ska, with Funk and Northern Soul added later. Dimension 50 invites you to dance those years away and relive the atmosphere of that Disco era with ex-Tiffanys & Nero's, and now Soul Train Radio, DJ Paul Mallon.
Note: This event comprises all recorded music; the above video indicates the type of music to be featured, but there will be no live band playing.
---
Saturday June 9th 8pm
The Unravelling Wilburys

Just when they were about to make it in the big time, this band of good ol' boys from Nashville Tennessee had a whole bunch of songs (allegedly) stolen by Roy Orbison; Jeff Lynne; George Harrison; Bob Dylan and Tom Petty, under the super group pseudonym The Travelling Wilburys.
Things were so bad after that, the real Wilbury brothers resorted to dressing up as The Beatles, and spent over 20 years touring as Sgt. Pepper's Only Dart Board Band. After a lengthy legal battle, a Hazzard County judge ruled the boys could git back their true identity and hit the highway with all their old songs including: Handle with Care; The End of the Line; The Devil's Been Busy and, by way of compensation, Pretty Woman; You've Got It; Mr Blue Sky; Telephone Line; Mr Tambourine Man; Lay Lady Lay; Running Down A Dream; I Won't Back Down; What Is Life; Here Comes The Sun; Runaway and many other great songs.
"Captured the style and sounds perfectly and with their own added sense of humour gave the audience an evening to remember"
---
 Sunday June 10th 8pm
The Hat & Feather Forever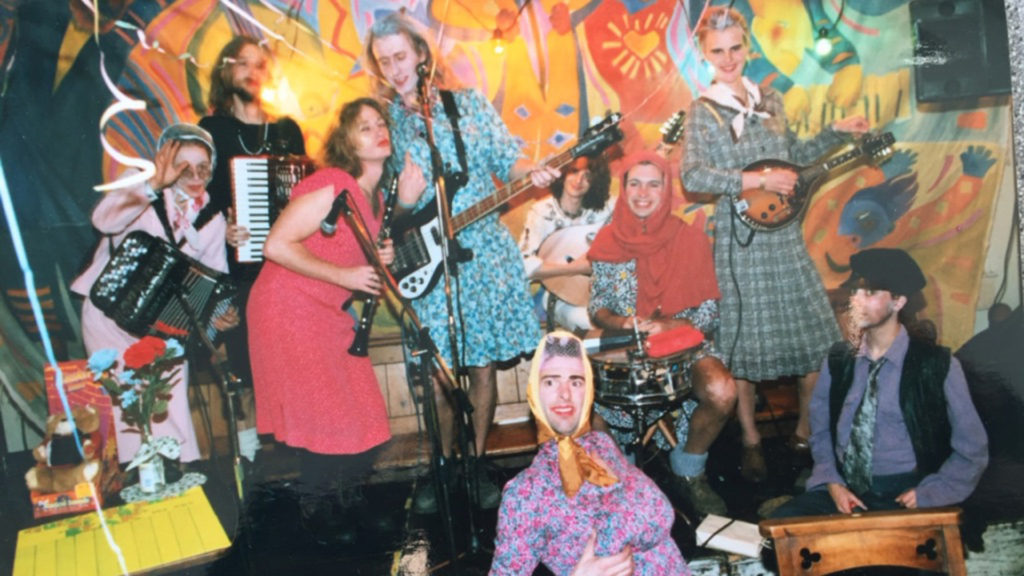 Recreating the legendary Thursday Nights at the Hat & Feather, with many Muso legends of that era (not looking a day older), including Shak Shak, Su Hart & the Palpitations with special guest Leon Hunt, Andy Burden, Hodmadoddery, Stuey and many more.
Come and relive the Good Old Days or see what you missed, but either way expect an evening of musical mayhem and magic in the gloriously unlikely confines of Bath's very own Original Theatre Royal.
---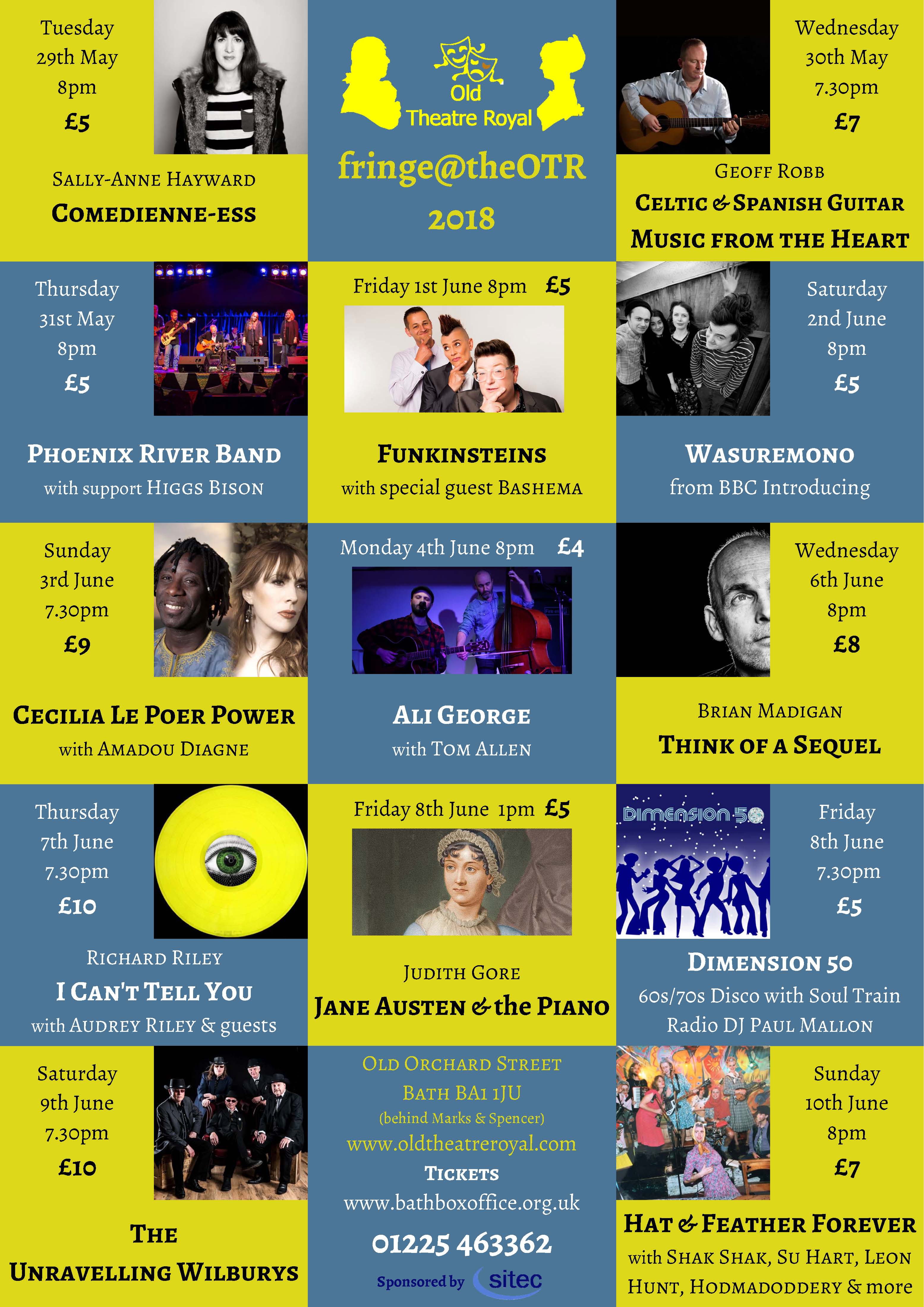 ---