fringe@theOTR 2022 is part of the Bath Fringe Festival and will run from May 27th to June 12th 2022.  Once again, we have attracted a very strong line-up including:
Sunday May 29th 8pm
The Phoenix River Band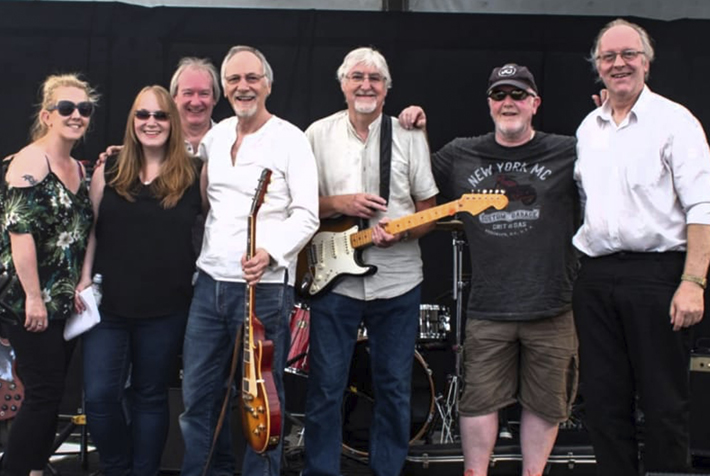 Phoenix River Band's music is a potent mix of original songs with driving beats and soulful melodies. The band's roots go back over 15 years, during which time they have performed with classic artists including Wishbone Ash, 10cc, The Blockheads and The Yardbirds, and made five albums of original and varied songs. One reviewer described the band as Like cruising in a Cadillac with Chris Rea at the wheel with Pink Floyd and the Allman Brothers in the back, and maybe some Eagles flying overhead.
---
Wednesday June 1st 8pm
A Band Named Brian
Bike to the Future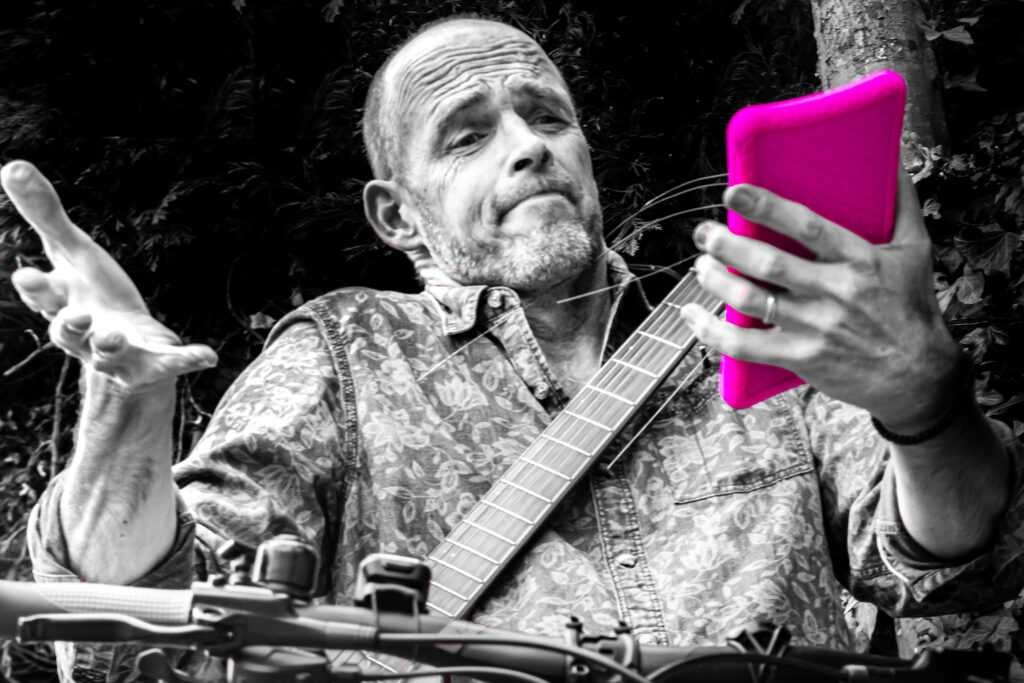 A Band Named Brian are on a two-wheeled mission, taking songs and stories around the country by bicycle. His aim: to save the planet – one gig at a time. But before he peddles off into the sunset, he's bringing an exclusive Special Preview to the OTR as part of The Bath Fringe. Challenging the norms of music and theatrical performance, Brian's blend of songs, spoken word and surprises are guaranteed to confound, amuse and, above all, entertain. The show uses a light touch to deal with weighty issues. As with Brian's previous Fringe shows, boundaries will be blurred and questions asked of the audience. Is it a gig? Is it a show? Will there be a band… or a choir… or dancers? There's only one way to find out.
---
Thursday June 2nd 8pm
The 90s Acoustic Mixtape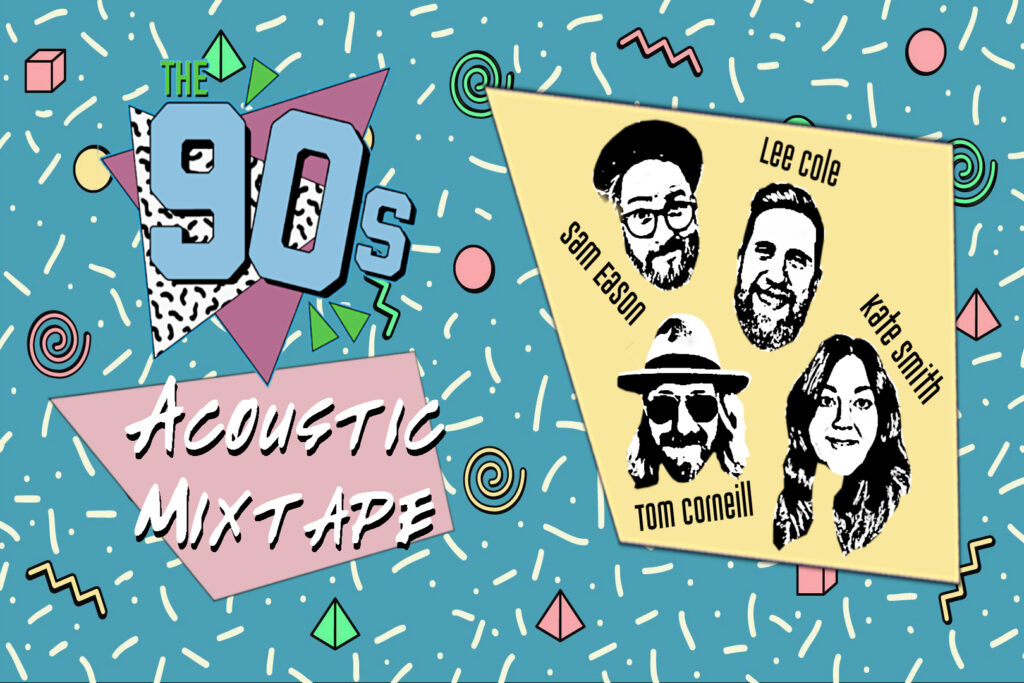 The 90s Acoustic Mixtape is a collective of top South West musicians putting on amazing and unique acoustic shows themed on the music of a decade or genre. This year, they bring their celebrated '90s Acoustic Mixtape' back to the Fringe after overwhelming public demand (allegedly)… Expect the usual, the unusual, the mad and the mega in a twisted acoustic style as the Mixtape bring you the very best of 90s tunes including the likes of Radiohead, Green Day, Prodigy, Spice Girls, Alanis Morissette, N-Trance and er… Ricky Martin?! Get your ticket early, this is one not to be missed!
---
Friday June 3rd 7.30pm
Lawrie Duckworth & Friends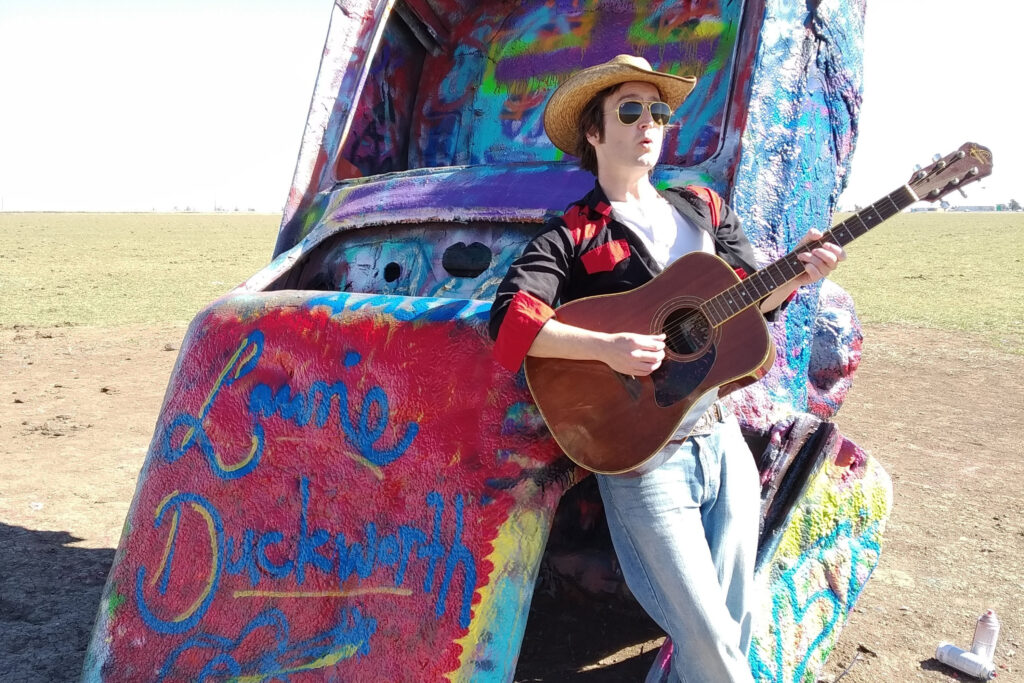 Lawrie Duckworth is a showman, a gunslinger, a lover and a storyteller. In another age, he would have been a troubadour, a flaneur, a mariachi, going from town to town playing his songs in return for a flagon of wine and a meat pie. In this age… well, what kind of pies you got? Lawrie brings his unique musical stylings to The OTR, featuring foot-tapping tunes performed with panache, interspersed with acoustic finger-pickers. Backed by a host of top-class musicians, including Californian Keyboard player Dave Palmer (Air, Fiona Apple, Cake, Fleetwood Mac) and composer Jools Scott, this promises to be a wild, dynamic and unforgettable evening, during which you'll laugh, cry and everything in-between.
---
Sunday June 5th 7.30pm
Julie July Band
The Sandy Denny Experience Tour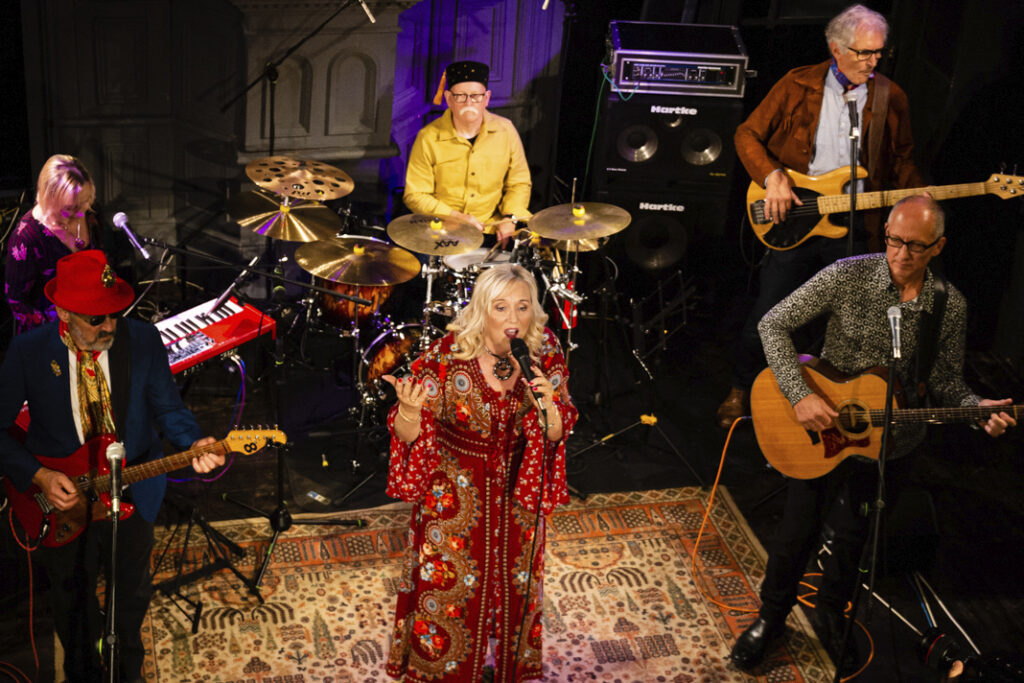 Julie July Band perform a celebration and tribute to Sandy Denny's defining role in British Folk-Rock Music as part of the Bath Fringe Festival at the OTR. The band have built a substantial reputation with reinterpretations and arrangements of Sandy's legacy of beautiful, haunting original and traditional compositions. The line-up includes Dik Cadbury from 1970's Decameron (Bass, Vocals), Mick Candler, Decameron and Roll Movement (Drums), Steve Rezillo (Lead Guitar), Caley Groves (Acoustic Guitar), Carol Lee Sampson (Keyboards, Vocals) and Julie July (Vocals). The evening features a first-rate collection of contemporary Folk-Rock songs, superb vocals and forthright lyrics delivered with skill, technique and conviction, including songs from their own self-penned Albums 'Lady of the First Light' and 'Wonderland'.
---
Tuesday June 7th 7.30pm
The WHY Tribe plus Support
In Aid of The We Hear You Charity

The WHY Tribe is a group of local musicians who play here, there and everywhere to support Frome-based charity "We Hear You" (WHY). It comprises an eclectic mix of four seasoned musicians who literally play all sorts of music including Rock, Blues Soul, Reggae and Americana music that transcends generations. The unique USP of The WHY Tribe is the band take personal requests at gigs, including performance of songs composed and dedicated with a personal touch – give us a bit of bio info on the person you want to dedicate the song to and they get the song…boom, tish, drum roll…out! All proceeds from ticket sales for this event will go direct to the WHY charity, which provides invaluable counselling support to adults and children who are struggling to cope with cancer and related bereavement issues.
---
Thursday June 9th 7.45pm
Nick Girone-Maddocks
and His Band

Former Thunderbridge Bluegrass Band frontman Nick Girone-Maddocks returns to the OTR with a new Trio, featuring former Thunderbridger Jules Bushell on double bass and Glen Davey on percussion. The show will include acoustic and electric sets of roots music, blues, country and original Americana, spanning Nick's prominent 25-year songwriting career, including material from Nick's new solo album 'British Southwestern'. With some fabulous stories and banter, the band promise an evening of all-original music which is becoming increasingly hard to find.
---
Friday June 10th 7.30pm
Greg Hancock, Alex Seel and Bob Gallie
The Songwriters Circle

Award-winning singer songwriters Greg Hancock and Alex Seel will be joined by well-known troubadour Bob Gallie to present their music in the form of a Songwriters Circle. This increasingly-popular style of performance allows the audience to not only enjoy the work of three individual performers, but encourages comparison and contrast of style, technique and general approach to songwriting. The performers take the stage simultaneously, and then take turns to introduce and perform their songs. This allows for musical and verbal interaction between the artists in an intimate and informal format that offers a richer variety and is a really engaging experience for the audience, with stories and plenty of humour as well.
Greg Hancock is a master guitarist, exquisite songwriter and beautiful arranger of music… one of the finest songwriters in the UK and should be heard by as many music lovers as possible! Blues and Roots.
Alex Seel's voice is a thing comprised of equal parts comfort and mystery, and it perfectly suits the songs, which are intimate but at the same time just a little bit untamed  Folkradio
Bob Gallie is a true troubadour. Originally from the Welsh valleys, Bob is now a well know face on the music scene around the South West appearing at numerous venues and festivals, raising the roof with his deeply emotional songs and a voice that soars, taking your heart with it.
---
Saturday June 11th 8pm
Jon Pickard
Harp-Guitar – Music of Dreams

For the first time at Bath Fringe, experimental guitarist Jon Pickard presents a unique and spellbinding journey through the magical New Worlds of the amazing 23-string Classical Harp-Guitar – the rarest of all the guitar family. Jon blends his four decades of experience in Classical, Rock, Jazz, Latin and Folk music with unique self-designed instruments to produce breathtaking original music, inspired by folk legends, true stories and dreams, plus arrangements of well known tunes from Bach to Dire Straits, re-imagined for Harp-Guitar. Winner of Buxton Fringe 2021 'Best Solo Instrumental Performance' award.
Beautiful, atmospheric, profoundly emotional and spiritual – you want to close your eyes and let the pictures created by the musician take you The Fine Times Recorder
---
Sunday June 12th 8pm
Wil Hodgson
Barbicidal Tendencies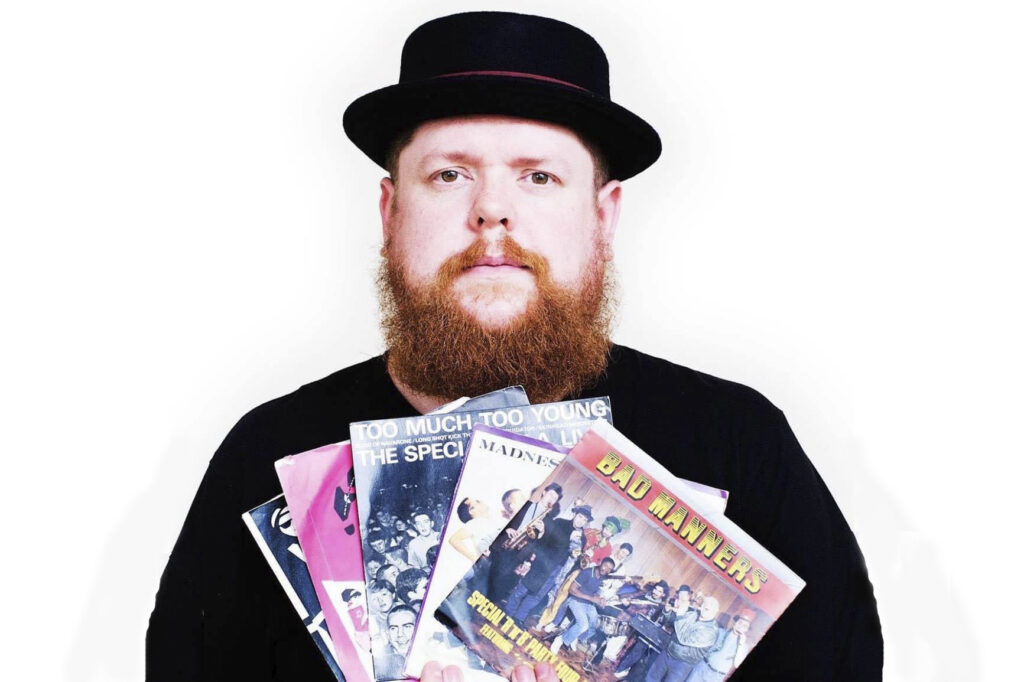 Comedian, barber, barstool philosopher – Chippenham's cult-favourite, award-winning, genderqueer punk storyteller Wil Hodgson makes his long-awaited return to the Fringe with a brand-new show. As seen on Russell Howard's most recent Netflix special.
The most charismatic of storytellers. A sort of urban warrior on behalf of all those who don't fit in The Scotsman
It may not be everyone's cuppa but believers know that he remains one of the most original and consistently funny performers in the UK  The Guardian
---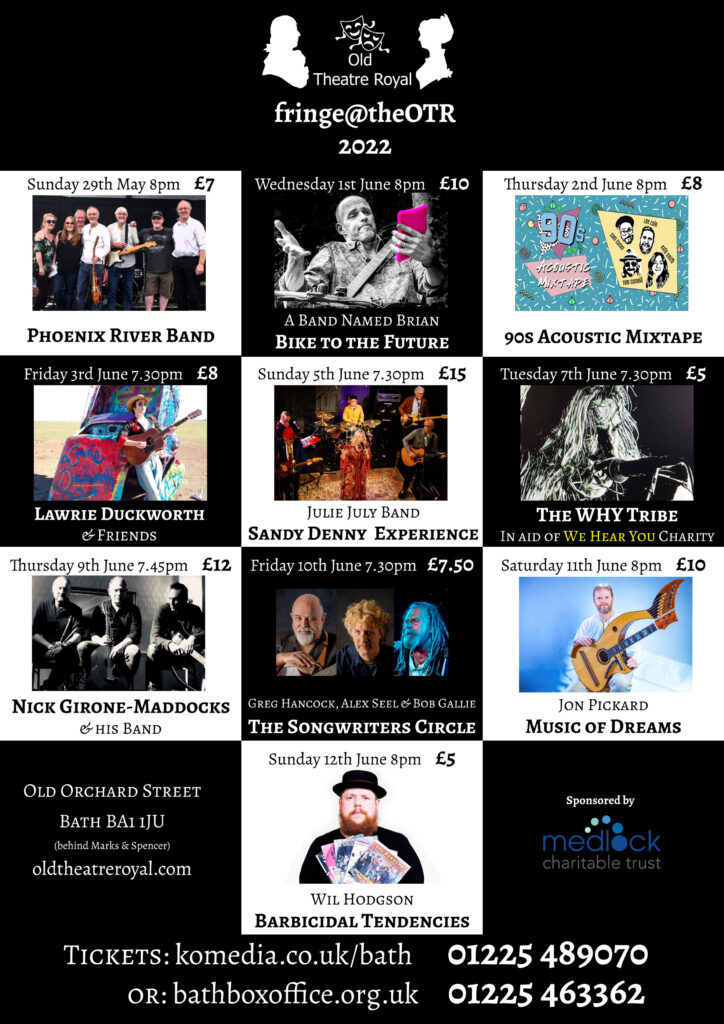 ---