The line-up for fringe@theOTR 2017, part of Bath Fringe Festival, has been announced, and features a very strong line-up including a finalist from last year's Britain's Got Talent and a comedian who has regularly appeared on TV in Phoenix Nights and Mrs Brown's Boys.   This year we have a total of twenty events over the fortnight, split equally between music and comedy: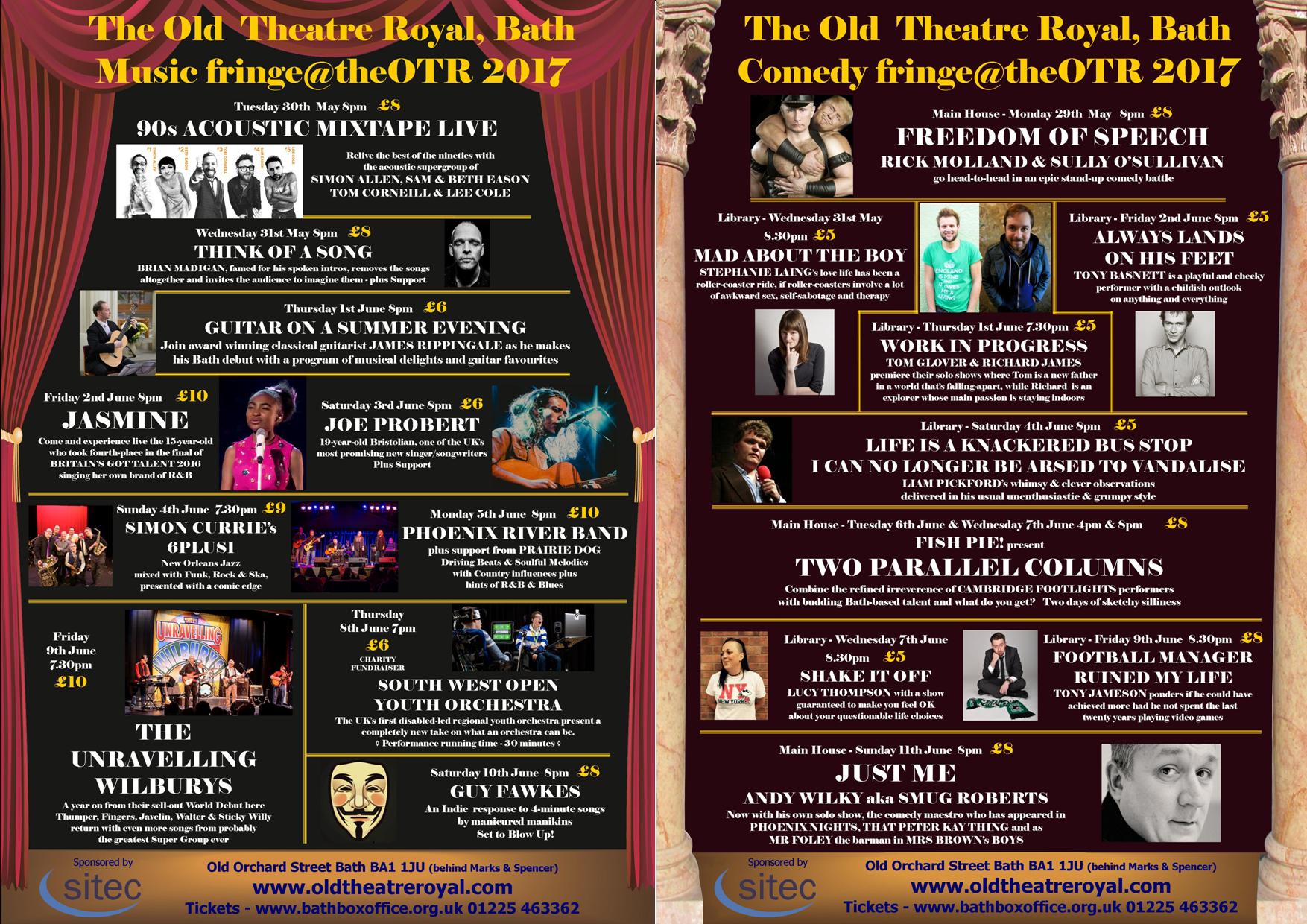 On the musical side, the fortnight kicks-off with the welcome return of Sam Eason who held the audience spellbound two years ago with the premiere of his specially-written album Bath Songs.  This year he is bringing along an Acoustic Supergroup of friends to perform 90s Acoustic Mixtape LIVE an incredible acoustic twist on the best dance and grunge music of the decade.   Other returnees are The Unravelling Wilburys whose sell-out debut performance here last year was one of the highlights of the festival.   This year their two sets will include even more of the best Traveling Wilbury songs, plusmany of the finest hits of Roy Orbison, George Harrison, Bob Dylan, Tom Petty and Jeff Lynne.
We also have two very exciting young musicians on consecutive nights at the end of the first week.  Fifteen-year-old Jasmine Elcock moved some judges to tears with her audition on Britain's Got Talent last year, winning Ant & Dec's Golden-Buzzer nomination before going on to finish fourth in the Final.  In this solo gig she will perform in her own unique R&B style inspired by listening to artists such as Whitney Houston, Maria Carey, and Alicia Keys to name a few.   19-year-old Bristolian Joe Probert is one of the UK's most promising singer/songwriters. Self-taught, whilst other kids were on X-Boxes, Joe was busking on the streets of Bristol & Bath, before setting-up his own DIY recording studio in the garden shed.
We have a great contrast in styles this year.  On 5th June, The Phoenix River Band will bring along their unique blend of country rock, R&B and Blues, supported by Bristol duo Prairie Dog.  On the final Saturday Indie band Guy Fawkes make their Fringe debut with a fresh sound that they describe as a a response to four-minute songs by manicured manikins.    In complete contrast, award-winning classical guitarist James Rippingale makes his Bath debut with Guitar on a Summer Evening which will include timeless guitar classics such as Asturias by Albeniz and Tarrega's enchanting Recuerdos de la Alhambra.   We also have New Orleans Jazz with a twist from Simon Currie's 6plus1, who mix-in a bit of Funk, Rock and Ska along with their own comic edge.
We are also very proud to be able to welcome The South-West Open Youth Orchestra who will premiere a new composition created especially for them by Liam Taylor-West.  SWOYO are the UK's first disabled-led regional youth orchestra, featuring disabled and non-disabled young musicians playing conventional and electronic instruments incorporating accessible EyeGaze technology.  Finally in this section we have a very Fringe-worthy music event that will feature no actual music at all.   Bath singer-songwriter Brian Madigan, who is famed for his lengthy spoken intros, so in Think of a Song he will remove the songs altogether – only thinking them 'out loud' as the audience are invited to imagine them – although at the end they will all receive a CD of all of the songs featured, recorded live in the OTR before the event.
In previous years we have had occasional stand-up comedy events in the third-floor Library.  These have proved very popular not only with our audiences, but also with the performers who enjoy the intimate atmosphere the room creates.  This year we have six up and coming stand-up comedians appearing 'upstairs', including Stephanie Laing returning to Bath with her show Mad About The Boy, Tony Basnett who Always Lands on His Feet, Lucy Thompson who will Shake it Off and Tony Jameson who laments that Football Manager Ruined my Life, as well as the laconic Liam Pickford with his snappily-titled Your Love Is A Knackered Bus Stop I Can No Longer Be Arsed To Vandalise.   Finally in the Library, Devon-based Tom Glover and Richard James will be performing a double header, each entitled Work in Progress, unveiling their debut solo shows, which they will develop before taking them to the Edinburgh Fringe Festival in 2018.
We also have three outstanding comedy shows in the main hall.  On our first night, Rick Molland and Sully O'Sullivan will go head-to-head in an epic stand-up comedy battle entitled Freedom of Speech.  On our final night we welcome Andy Wilky, aka Smug Roberts, who has numerous TV appearance to his name with Peter Kay in Phoenix Nights and That Peter Kay Thing, and is currently appearing in Mrs Brown's Boys as Mr Foley, the barman at Agnes' local.   In this solo show entitled Just Me he demonstrates his excellent storytelling, laced with brilliant punchlines and surreal tangents, including the welcome appearance of a talking dog.
In between these, we have four performances over two days from renowned Cambridge Footlights troupe Fish Pie!, who are premiering their new sketch comedy review entitled Two Parallel Columns – a very apt title for a show on our stage, as regulars will no-doubt recognise!
This year's Fringe Festival events at the Old Theatre Royal are again sponsored by the Bath-based Sitec Group, and will run from 29th May to 11th June 2017.   Full details including ticket information can be found on our fringe@theOTR webpage or by clicking on the poster above.