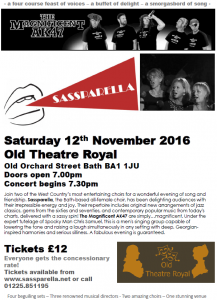 Saturday 12th November 2016
Sassparella and Magnificent AK47s in Concert
Old Theatre Royal
Doors open 7.00pm
Concert begins 7.30pm
Join two of the West Country's most entertaining choirs for a wonderful evening of song and friendship.
Sassparella, the Bath-based all-female choir, has been delighting audiences with their irrepressible energy and joy. Their repertoire includes original new arrangements of jazz classics, gems from the sixties and seventies, and contemporary popular music from today's charts, delivered with a sassy spin!
The Magnificent AK47 are simply…magnificent. Under the expert tutelage of Spooky Man Chris Samuel, this is a men's singing group capable of lowering the tone and raising a laugh simultaneously in any setting with deep, Georgian-inspired harmonies and serious silliness.
A fabulous evening is guaranteed.
Tickets £12
Everyone gets the concessionary rate!
Tickets available from www.sassparella.net or call 01225.851195