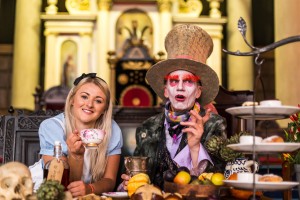 A Mad Hatter's Masquerade at Bath's Old Theatre Royal!
*EVENT CANCELLED*
Regrettably, this event has been cancelled by the Bath Feast organisers due to logistical issues.  We apologise for any inconvenience caused.
Friday 2nd October 7.30pm at the Old Theatre Royal
The Great Bath Feast 2015 will include an after-dark masquerade dinner with a fabulous five-course tasting menu designed and produced by Bath's most celebrated chefs… 
"As part of this year's Great Bath Feast and to mark the 150th birthday of Alice in Wonderland, a magical after-dark Mad Hatter's Masquerade Dinner is being conjured up in the extraordinary surroundings of Bath Masonic Lodge on Friday 2nd October.
Formerly Bath's original Old Theatre Royal, this special venue is one of England's oldest Masonic lodges and one of Bath's best kept secrets, complete with impressive Masonic Temple, elevated stage, masonic organ and subterranean vaults.
Expect an evening of entertainment, amazing food and the weird and wonderful inspired by this popular literary classic".
You could be among the dinner guests at this extraordinary event.
Visit The Great Bath Feast 2015 website to find out more and buy your ticket…