Ange Hardy, heralded by The Telegraph as "one of Britain's top folk musicians" for her 5-star 2014 album "The Lament of The Black Sheep", will be performing at The Old Theatre Royal on Wednesday 3rd June as part of the Bath Fringe Festival, presenting an evening of songs, stories, laughter and spectacular acoustic music.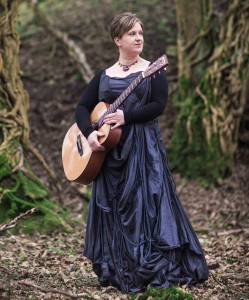 Whilst Ange has a traditional slant to her writing style and use of vocal harmony, she also brings a very modern edge to her performances. There are songs about farming and sea-faring, but there are also songs about Facebook and mobile phones. On top of that Ange uses a loop-pedal to create spectacular vocal harmonies live from the stage, and performs with a variety of guitars, a 27-string harp, low whistle, bodhrán drum, and any other instruments she can fit on the stage.
Despite this modern element Ange has won the hearts of many stalwarts of the folk scene and traditional folk clubs, and saw her nominated for the Horizon Award for best emerging talent at the 2015 BBC Radio 2 Folk Awards.
Veteran folk broadcaster Mike Harding heralded Ange as "one of the bright stars of the new wave of folk singers" and she's variously recorded or been joined on stage by artists such as Nic Jones, Steve Knightley, Patsy Reid, James Findlay and Luke Jackson, a selection of folk artists that demonstrates her widespread appeal.
Ange will be supported on the night by folk collective DeMalebysse, who you may have seen at the Bath Folk Festival New Shoots competition last year – a platform that Ange herself passed through on the road to the top.

Ange Hardy is not only bringing new audiences to folk music, she's also bringing many folk audiences to new music. This is an evening for anyone that loves good music that tells a story.