The line-up for fringe@theOTR 2016, part of Bath Fringe Festival, has been announced, and features a very strong line-up including the world premiere performance of the The Unravelling Wilburys, and appearances from members of one of Bath's most famous chart groups, The Korgis.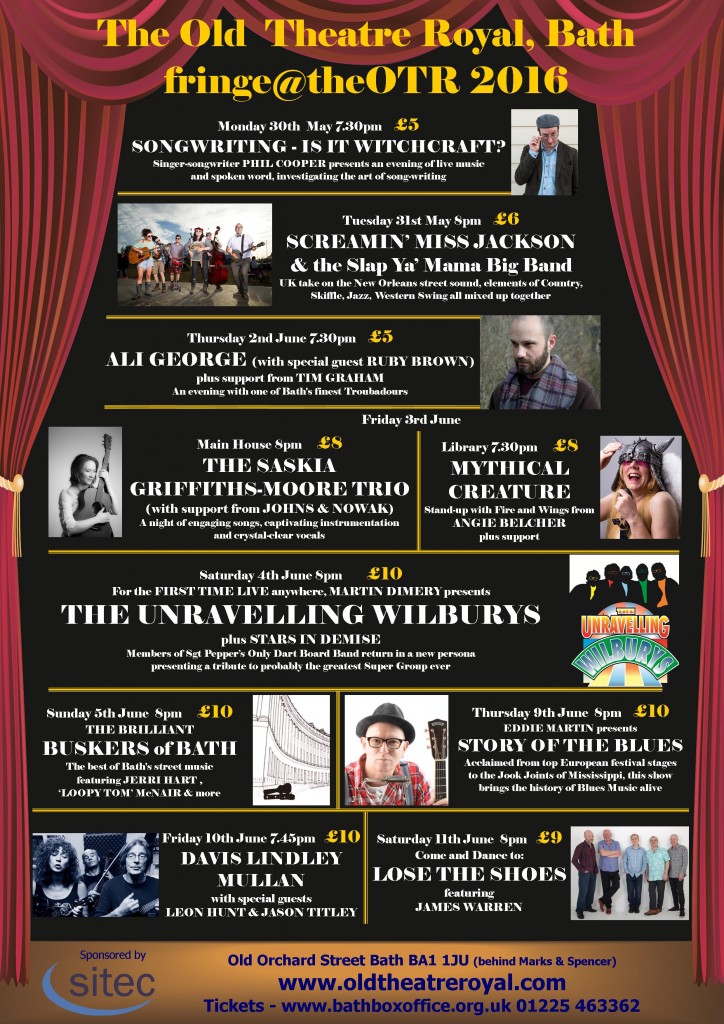 Once again, there is a distinct musical theme for this year's events, with artists from Bath and surrounding counties filling the majority of the dates.  They include the latest incarnation of one of Bath's most popular tribute bands, Sgt Pepper's Only Dart Board Band, who took their hilarious and brilliant Beatles show around the globe for more than twenty years.  Now, having finally grown up, they return on Saturday 4th June in their FIRST EVER LIVE PERFORMANCE as The Unravelling Wilburys, a tribute to the greatest ever super-group, featuring not only the best Traveling Wilbury songs, but many of the finest hits of Roy Orbison, George Harrison, Bob Dylan, Tom Petty and Jeff Lynne.
The two main protagonists in 1980s chart band The Korgis, James Warren and Andy Cresswell Davis, will be coming to the OTR with their current bands on following nights in June.   Former Stackridge member Andy's band Davis Lindley Mullan performed here last year and he brings them back on June 10th sharing the bill with their special guests Leon Hunt and Jason Titley.  On June 11th, Lose the Shoes will be here, featuring James on lead vocals together with John Baker, Andy Marsden and Glenn Tommey, all former members of another well-known Bath band Graduate.
Following their hugely successful show last year, The Brilliant Buskers of Bath will be back again on 5th June with, this year, Jerri Hart as the host of an evening of the very best of the City's street music performed indoors, and amplified.   Also returning will be Bristol comedian Angie Belcher, who will perform her second Edinburgh show Mythical Creature in our library on 3rd June, supported by Odious Vex and Robert Garnham.
We have two themed shows that will be a must for music buffs.  The first is Phil Cooper's Song-writing: is it witchcraft? on May 30th where he investigates the art of song-writing, using stories and examples to explain how a song can go from non-existant to real and memorable within a matter of minutes.  In a final brave move he will try to write a brand new song on the night, which will then be recorded and sent to everyone in the audience.
Eddie Martin's The Story of the Blues on June 9th brings the history of his beloved blues music alive with anecdotes, guitar and harmonica wizardry, using songs from the Delta to the British Blues Boom and back to Chicago.  Eddie will also run a harmonica workshop in the Library before the performance, commencing at 6.30pm, full details and prices for which are available on his website.
Two back-to-back evenings of more laid-back music commence on 2nd June with Bath singer/songwriter Ali George.  Ali's beautifully controlled voice reminds many of Cat Stevens and Nick Drake, and he will be joined on the night by special guest Ruby Brown, a singer whose stunningly beautiful voice always compliments Ali's in harmony and timbre. They will be supported by Tim Graham
The following night, June 3rd, we host Bristol's Saskia Griffiths-Moore Trio who  perform heartfelt atmospheric folk/pop, passionately sung over classical and acoustic instruments. Frequently compared to Joan Baez and Eva Cassidy for her enchanting tones, creative melodies and her perfect, natural sound, Saskia's original songs are at once thoughtful, mesmerizing and stunningly beautiful, delivered with humour and style.  Their support will be a local Americana duo, Johns & Nowak.
Last, but by no means least, on 31st May we have Bristolian 7-piece Screamin' Miss Jackson and the Slap Ya' Mama Big Band.  Their sound is truly unique, drawing their influences from such diverse players as early bluesman Casey Bill Weldon, 1920's Jazz singers like Georgia White, the western swing feel of The Texas Playboys and finally mixing all that up with the country folk of Doc Watson.   Whether performing original tunes or their own unique take on an early classic, the energy and passion all seven have for the music is more than apparent.
This year's Fringe Festival events at the Old Theatre Royal are again sponsored by the Bath-based Sitec Group, and will run from 30th May to June 11th 2016.   Full details including ticket information can be found on our fringe@theOTR webpage or by clicking on the poster above.