The line-up for fringe@theOTR 2018, part of Bath Fringe Festival, has just been announced, and features a very strong line-up ranging from the Indie/Dream Pop of Wasuremono from Bradford on Avon to the Acoustic Guitar of Geoff Robb, with everything in between including Electronica, Country Rock and Disco.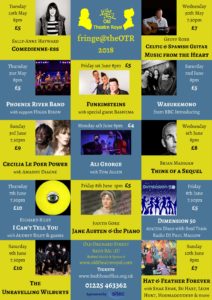 Featuring currently on BBC Introducing, Wasuremono from Bradford-on-Avon will be here on Saturday 2nd June, with their ever developing show that incorporates intricate guitar styles and soundscapes, four part harmonies, rythmic drums and synths.
We have a number of artists returning this year, led by The Unravelling Wilburys, here for their third year running on Saturday 9th June with their tribute to the music of Roy Orbison, Jeff Lynne, George Harrison, Bob Dylan and Tom Petty and the supergroup they formed in the 1990s.
Also back from last year are The Phoenix River Band who will bring along their unique blend of country rock, R&B and Blues on 31st May, supported by the atmospheric sound of Bath-based Higgs Bison.  Theirs is the first of two consecutive nights celebrating the tenth anniversary of Bristol's Jelli Records, the second night featuring the unique sound of neo funk/rock trio Funkinsteins with special guest Bashema.
Disco takes the spotlight on Friday 8th June with Dimension 50, when ex-Tiffanys & Nero's, and now Soul Train Radio DJ Paul Mallon will take you back to the times when Geno was 'down the Pav', hair was big and flares were larger. More nostalgia on 10th June, when we host The Hat & Feather Forever, when a number of acts that graced their infamous Thursday night sessions take to the stage for more musical mayhem, including Shak Shak, Su Hart & the Palpitations, Leon Hunt and Hodmadoddery.  On 7th June, we have a rare live performance by Richard Riley of his acclaimed electronic work "I Can't Tell You" performed with a full band, contemporary dance and spoken word plus and special guest including Grammy-nominated cellist Audrey Riley.
If you like your music more laid-back, then guitarist and composer Geoff Robb will be here on 30th May with his music that blends his classical training with his love of Spanish and Celtic music.  On 3rd June Nationally-acclaimed singer Cecilia Le Poer Power will be joined by the evocative Senegalese singer/multi-instrumentalist Amadou Diagne for an evening of intimate and atmospheric music.  And in a first for the OTR, on 8th June we bring you a lunchtime recital by Judith Gore entitled Jane Austen and the Piano, and featuring music associated with the era by Haydn, Piccinni and Sterkel.
Ali George, one of Bath's most treasured singer/songwriters, returns after a two year gap on 4th June, this time joined by double-bassist Tom Allen with a mix of music ranging from from Folk to Americana/ Blues.   Brian Madigan follows-up last year's highly successful Think of a Song with Think of a Sequel on 6th June, accompanied by Tony Orrell, Paul Bradley and James Watts to create unique interpretations of songs they themselves have never heard.
However, it is comedy that kicks-off our events on May 29th with Comedienne-ess in which Sally-Anne Hayward, who is one of the regular hosts of Krater Comedy at Komedia, takes time off from supporting Sarah Millican on tour to bring her own show to the Old Theatre Royal.  59 minutes of jokes from a female/woman unafraid of embracing her bitchier side.
This year's Fringe Festival events at the Old Theatre Royal are again sponsored by the Bath-based Sitec Group, and will run from 29th May to 10th June 2017.   Full details including ticket information can be found on our fringe@theOTR webpage.